Search Engine Optimization for Dentists - Your New Patient Magnet
Why do you need effective dental search engine optimization (SEO)? Your current patients will likely search for your practice name (i.e. "Bob's Dental") on the Internet, and consequently, your listing shows up on their search results.
Prospective patients, however, tend to search on the Internet by topic and city (i.e. "Baltimore Dentist"). If your website design is poorly optimized for relevant keywords and phrases, your dental practice won't show up, making it virtually invisible from local searches.
If you're interested in reaping the benefits of our dental SEO services, be sure to contact us today. You can also give us a call at 800.227.2513.
Best Practice for Dental SEO
Getting your website to the top of a Google search and staying at the top requires a long-term investment in all aspects of SEO.
Higher Google Rankings for Dentists
94% of patients will choose a dental practice from Page 1 of a Google Search. Dental SEO makes sure potential new patients find you first!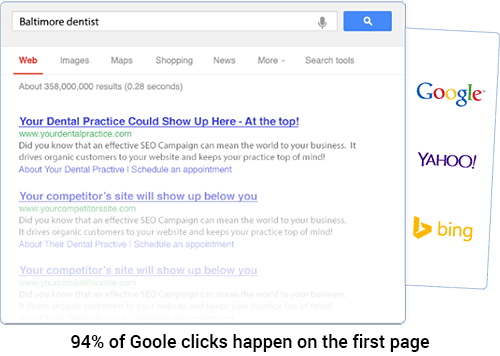 Attract More New Patients by Reaching the First Page of Search Engines
Where does your practice rank in a search engine? If you aren't on the first page of a search query, you're missing out on 94% of the patients in your market. Don't let your competition outshine you. Our team will help you develop an SEO plan for your practice that incorporates on-page and off-page optimizations, dynamic keyword strategies, and a fresh pipeline of unique content that Google loves and people want to read. Our goal is to have your practice rank higher while also creating a beautiful website that represents the spirit of your practice. We want to help the independent dentist attract more patients and grow their bottom line. Everything we do is with your best interest in mind, and we will work with you personally to help you achieve your professional goals. Whether you would like to see more patients for a specific service, or if you would like to advertise a unique procedure that only you provide, we want to market what makes your practice special.
You have the power. No contracts!
Unlike most SEO companies, we won't charge you outrageous fees, tie you down with contracts, make impossible guarantees, or hide our work. Like every service we offer, we provide full reporting and unlimited, live customer service. VivioSites strives to make this entire process as transparent as possible. At the end of every month, we send you a detailed report containing keyword rankings and trends, the number of visits to your website, which keywords were used to access your website, where content has been submitted, and more. You can reach us and speak with a real person who is familiar with your practice. We treat our clients like you treat your patients—with individualized care and friendly service. Our team works with you on a first name basis to provide continuous care that you can rely on. The growth of your practice is our top priority, so we make sure to keep an open line of communication that will ensure your satisfaction with our services. We are passionate about transparent communication, so we will answer any questions you have about our services with complete honesty. Good SEO is a collaborative effort, so we aim to include you as much as possible.
Get Found with VivioSites – Applicable to ANY dental website!
VivioSites' advanced dentist search engine optimization program implements tried and true strategies to get clients from the depths of search engine rankings to the first page of a Google search in a timely manner. These techniques include:
Constant Tracking, Reporting, & Tweaking
SEO is an ever-changing process that evolves almost daily. Our experience in digital marketing has prepared us to grow with your practice. We make constant adjustments based on our monitoring of your advertising campaigns. Our team will research the best approach in order to highlight what makes your practice unique, and then we make constant changes based on your patients' search behaviors. We understand that your patients are unique to your area, so we advertise your practice based on their needs. Don't waste time on keywords that don't work. We narrow down the most effective keywords that would best serve your area. Our goal is to improve your bottom line and connect you with more patients.
On-page Optimizations
We are constantly editing your on-page information such as title tags, meta descriptions, and keyword mapping. SEO is a dynamic process with several varying components that need constant vigilance and adjustments. We pinpoint the most relevant keywords and meta descriptions to best portray the key values of your practice while also serving the patient. Every page on your site will have its own unique information to help boost your ranking for varying search queries. Every service you offer, every treatment you provide, and every specialist you employ will be highlighted based on our research to ensure that you are connecting with patients who need you.
Dynamic Keyword Strategies & Original Content
Our professional SEO writers will refresh your entire website, creating new content and using keywords to attract the patients and cases you want. We give your practice website a complete makeover, customizing it exactly to your liking. Our team will help you create a custom site that meets all your expectations. They will speak with you personally to understand the personality of your practice and guide you in designing your ideal website. Your site can have original content ranging from informational blogs to social media postings. Every service you provide will be explained in-depth so that your patients have all the information they need to take care of their dental health.
Off-site Optimizations
We utilize offsite optimization by incorporating link building from respectable sources in the dental community. Linking to quality content tells Google that you are a reputable source for dental care and they will be more likely to recommend you to potential patients by ranking you higher. Our team works diligently to link out to quality content as well as having other sites link back to you. We work with reputable contacts to help increase your chances of ranking highly within your area.
Staying Ahead of the Technology Curve
Google, Bing, and Yahoo! change their algorithms all the time, so it is vital that a business stays on top of software updates. Our team stays vigilant of any changes so that we can adjust accordingly. SEO needs to change with today's technology in order to remain effective. Our marketing experts will update your information weekly just to make sure that you are getting the most value for your investment. We update your internal code and keywords to stay ahead of search engines in order for your practice to remain competitive. VivioSites is dedicated to keeping your practice relevant by providing you with continuous updates and the latest SEO services.
What is dental search engine optimization and why is it important?
Learn more about dental SEO and how it can benefit your practice.
There are millions of users on the internet searching each day for everything from dental practices and recipes to car repair tips and medical information on billions of web pages. With so much information out there, it's easy to get lost among all those other sites. Google and other search engines help users wade through all of these web pages and find relevant websites. A high search engine ranking for your dental practice's website means that users will see - and visit - your website first. The easier your website is to find, the more likely it is those users (most likely patients in your community) will become new clients at your dental practice. Search engine optimization (SEO) is a way of customizing your website so that Google, Yahoo and other search engines place your dental practice website at the top of their website rankings.
The SEO staff at VivioSites stays on top of the latest trends in search engine optimization to better help increase your dental practice website's search engine rankings through dental website optimization. Because we only work with dental practices and dental organizations, we know what local patients are looking for when searching for dental practice websites. VivioSites works closely with clients to develop strong keywords, page titles, and keyword-dense copy for your website. We submit your site to Google, Yahoo! and other major search engines as well as local search engines to ensure that your dental practice website achieves high rankings in local search results.
Search engines use automated programs – often called "robots" or "spiders" –to examine websites and add information about the site to a search index. These spiders examine the text on the site for relevant keywords, look at the metatags and alternate text (text associated with photos and graphics on the site) on the website and inventory links to and from other websites that lead to your site. Some search engines also monitor how often your site is clicked on in search results for your keywords – for instance, if a lot of users click on a link to your site after searching for "Seattle dental practice or dental practice in Seattle," the search engine will view your site as more relevant to those search terms. This data is plugged into a series of complex algorithms that rate and rank each site. The higher your practice website's ranking, the better. The higher your website's rankings, the more visitors to your site, and ultimately, more phone calls for appointments.
There could be a number of reasons for not showing up on Google. If your dental practice website is new, Google and other search engines may not have added your site to their indexes. Because there are billions of sites on the internet (with more being added every day), it takes anywhere from a few weeks to a few months for search engines to find your site. If you have an old or outdated website for your dental practice, or if it hasn't been updated in a while, your site may have fallen far in the rankings. By subscribing to one of VivioSites' customized SEO packages, your dental practice website not only will be quickly noticed by Google and other search engines, it will also achieve high rankings.
Every search engine collects different kinds of data from websites and uses different algorithms to interpret that data. While all search engines are looking for basic data from each site – keywords, alternate text, page titles, etc. – each search engine ranks that data differently. The dental SEO staff at VivioSites can optimize your site so that it achieves high placement not just in Google search results, but Yahoo! and MSN search results as well.
Search engines rankings are fluid and constantly changing. While your dental practice website may rank near the top of the results one day, a month later, it may drop two or three spots. This is because search engines are constantly re-crawling your website in search of new information. The more fresh content you have on your site, the better. Spiders like websites that are updated frequently and will return to crawl your practice's site more often if there is new content. If your dental practice's website is old and outdated, spiders will return less often and your rankings will go down quickly.
If your dental practice is located in an area with heavy competition, dental search engine optimization is necessary for achieving high rankings. Along with submitting your website to Google, Yahoo! and other major search engines, our SEO experts also submit your practice's website to major local website directories (Google Local, Yahoo Local, etc.). Search engine rankings may vary depending on where your practice is located. Improving local search result rankings in a small city is easier than increasing rankings in a large city or metropolitan area. But no matter where your dental practice is located, the qualified SEO experts at VivioSites can help your dental practice website stand out from the rest of the pack.

Wondering where your Dental Search Engine Optimization strategy went wrong?
Get a FREE SEO Analysis ($199 value).
Our search engine optimization experts have years of experience in getting countless clients to the first page of the major search engines. Let us size up your competition, discover your SEO shortcomings, and point out market opportunities for your practice. Call us today at (800) 227-2513